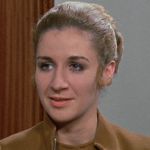 First regular appearance:
Spearhead From Space
Last regular appearance:
Inferno
Doctor Elizabeth 'Liz' Shaw has also appeared in:
Caroline John has also appeared in:
After strange meteorites started appearing Doctor Liz Shaw was drafted in as UNIT's scientific adviser, until the newly regenerated Doctor was found.
Liz Shaw was the first, and to date only, companion never to have travelled in the TARDIS. She left UNIT to continue her academic career. There was no proper leaving party.
Doctor Elizabeth 'Liz' Shaw has met these regenerations of the Doctor:
Home:
London, Earth (20th century)