David Tennant
Tenth Doctor
2005 - 2010
Quote from
Rose: No, you're not keeping the horse.
The Doctor: I let you keep Mickey.
Tenth Doctor and Rose.
DVD

In 2001 the BBC started to release Doctor Who adventures on DVD along with additional extra features and commentary. The DVDs offer digitally remastered picture and sound quality, and in some cases the soundtrack has been enhanced to 5.1 surround sound, and special effects have been enhanced wth the use of CGI.
Series 2 - Volume 1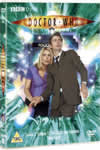 Released:
2006 BBC Worldwide
Runtime:
105 mins
BBCDVD:
1960
Rating:
PG
Available from:
Series 2 Volume 1 contains the episodes The Christmas Invasion and 1. New Earth
Series 2 - Volume 2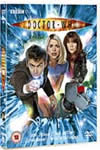 Released:
2006 BBC Worldwide
Runtime:
135 mins
BBCDVD:
1961
Rating:
12
Available from:
Series 2 Volume 2 contains the episodes 2. Tooth and Claw, 3. School Reunion, 4. The Girl In The Fireplace
Series 2 - Volume 3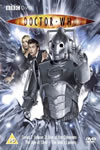 Released:
2006 BBC Worldwide
Runtime:
133 mins
BBCDVD:
1962
Rating:
PG
Available from:
Series 2 Volume 3 contains the episodes 5. Rise Of The Cybermen, 6. The Age Of Steel, 7. The Idiot's Lantern
Series 2 - Volume 4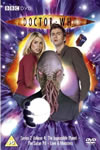 Released:
2006 BBC Worldwide
Runtime:
133 mins
BBCDVD:
1963
Rating:
PG
Available from:
Series 2 Volume 4 contains the episodes 8. The Impossible Planet, 9. The Satan Pit, 10. Love And Monsters
Series 2 - Volume 5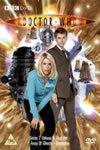 Released:
2006 BBC Worldwide
Runtime:
135 mins
BBCDVD:
1964
Rating:
PG
Series 2 Volume 5 contains the episodes 11. Fear Her, 12. Army Of Ghosts, 13. Army Of Ghosts
The Complete Second Series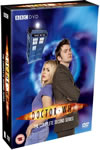 Released:
2006 BBC Worldwide
Runtime:
645 mins
BBCDVD:
2122
Rating:
12
Available from: