Writer: Barry Letts
Director: Phil Clarke
Incidental Music: Peter Howell
Released: 1996, 2000 BBC Worldwide Ltd.
2. The Ghosts Of N-Space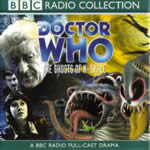 Sarah Jane Smith, on holiday with her chum Jeremy and a bad case of writer's block, is amazed to find the Brigadier in the same part of Italy. He is there to help a distant relative whose tiny island home has been threatened by American Mobster Max Vilmio.
When the ghosts that haunt the island's crumbling castle are joined by less benign spectres, the Brigadier summons the Doctor - who discovers that the whole of mankind is threatened by the plans of the ruthless Vilmio and his mysterious hooded henchmen.
Regular Cast
Brigadier Lethbridge-Stewart: Nicholas Courtney
Sarah Jane Smith: Elisabeth Sladen
Jeremy Fitzoliver: Richard Pearce
Guest Cast
Max/Maximillian: Stephen Thorne
Maggie: Sandra Dickinson
Mario/Bruno/Thug 1: Harry Towb
Lousia: Deborah Berlin
Nico/Nicodemus: David Holt
Don Fabrizzo: Don McCorkindale
Barone/Man: Gavin Muir
Baronessa/Marcella: Jillie Meers
Segio/Guido: Jim Sweeny
Maid: Joanne Sergeant
Roberto/Servant/Knight/Thug 2: Jonathan Keeble
Clemenza: Jonathan Tafler
Paolo: Paul Brooke
Male Voice/Umberto: Peter Yapp
Details
Running Time: 2hrs 50 mins
ISBN: 0 563 47701 6