Christopher Eccleston
Ninth Doctor
2005
Quote from
What are you going to do? Moisturise me?
Annuals
From 1965 in most years there has been an annual produced featuring the Doctor of the time containing behind the scenes facts, puzzles, and stories.
Doctor Who Annual 2006 Featuring the Ninth Doctor and Rose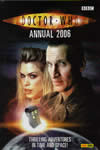 Published:
2005 Panini Publishing Ltd.
No. of pages:
62
Comic Strip Stories
Mr Nobody
Features
Who's Who?
Meet The Doctor
Meet Rose
Behind The Scenes
Inside The TARDIS
Robot Rose
The Van Statten Code
Stories
Doctor vs Doctor
The Masks Of Makassar
Pitter-Patter
What I Did On My Christmas Holidays By Sally Sparrow